LOST REDUCED: World Premiere!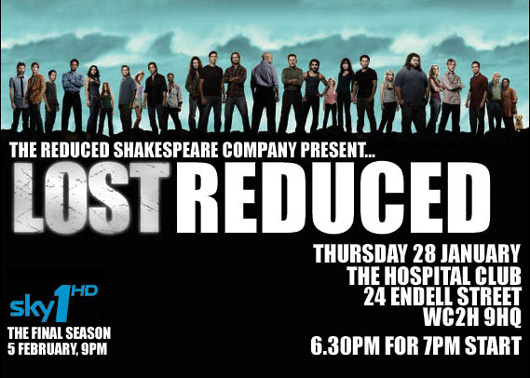 press release
LOST REDUCED – Watch it here!

FIVE SEASONS OF LOST IN TEN MINUTES
Reduced Shakespeare Company
Perform world premiere
London, 28th January
BY INVITATION ONLY

With the hotly anticipated sixth and final season of LOST launching on February 5th, Sky1 HD is proud to announce LOST REDUCED – a specially created ten minute play from the widely acclaimed Reduced Shakespeare Company.
The celebrated comedy theatre troupe have condensed all five seasons into a fast paced flight through the story of the Oceanic plane crash survivors. The world premiere is to be held in London on Thursday 28th January, performed for an intimate audience of competition winners. The production will also be filmed for internet broadcast as well as on the Sky Platform's Anytime service.
Conceived by Brothers and Sisters Creative for Sky1 HD the proposal was warmly received by the Reduced Shakespeare Company who quickly agreed to write and perform LOST REDUCED.  Austin Tichenor, co-author of Lost Reduced with Reed Martin enthused "We are all ginormous fans of Lost. We've followed every twist and turn in the labyrinthine plot since the very beginning. Being trusted to reduce the first five seasons to just ten minutes is a humongous responsibility. All the years we spent poring over Oceanic Airline flight manifests and arcane theories of time-travel will not have been in vain. We can't wait to see the final season! Damon and Carlton will explain everything!"
"Yeah, sure they will," grumbled Martin.
Martin and Tichenor are managing partners of the Reduced Shakespeare Company and will perform Lost Reduced with long-time company member Matt Rippy.
Co-creator and executive producer Damon Lindelof and executive producer Carlton Cuse have praised the idea and granted permission for the production to go ahead.
Sophie Jones, Controller of Marketing, Sky1 HD, Sky1, 2 & 3 says: "When Brothers and Sisters brought this idea to us it immediately leapt out as far too good to pass up and we swiftly commissioned the script. We feel this offers a really unique interpretation of LOST that will delight both the dedicated fans and bring everyone right up to date in advance of the season 6 launch. We're enormously grateful that executive producers Damon Lindelof and Carlton Cuse along with ABC Studios have given the project their blessing."
Tickets will be given away to fans through a series of online competitions and radio promotions. If you didn't win tickets through the RSC's guessing game on Twitter, there's still a chance. Email your name, contact number and the email address of your plus one to [email protected].
The winners will then be selected and notified if they have received tickets on Tuesday 26th January.
LOST REDUCED is written and performed by the Reduced Shakespeare Company with the project overseen by Sophie Jones and Brothers and Sisters Creative for Sky1.
The final season of LOST launches on Sky1 HD and Sky1 on Friday 5th February at 9pm.