All 37 Plays in 97 Minutes!
Written by Adam Long, Daniel Singer and Jess Winfield
"PITHIER THAN PYTHON. IRRESISTIBLE."

New York Times
An irreverent, fast-paced romp through the Bard's plays, The Complete Works of William Shakespeare (abridged) was London's longest-running comedy having clocked a very palpable nine years in London's West End at the Criterion Theatre! Join these madcap men in tights as they weave their wicked way through all of Shakespeare's Comedies, Histories and Tragedies in one wild ride that will leave you breathless and helpless with laughter.
"STUPENDOUS, ANCHORLESS JOY!"

The Times of London
The Reduced Shakespeare Company is a three-man comedy troupe that takes long, serious subjects and reduces them to short, sharp comedies. Since 1981, 'The Bad Boys of Abridgement' have created nine stage shows, two television specials, several failed TV pilots and numerous radio pieces – all of which have been performed, seen, heard and translated into Klingon the world over.
"ROLLICKING, FAST-MOVING AND HILARIOUS!"

The Guardian
The company's first three shows, The Complete Works of William Shakespeare (abridged), The Complete History of America (abridged) and The Bible: The Complete Word of God (abridged) enjoyed a nine-year run at the Criterion Theatre in Piccadilly Circus. Not only were they London's longest-running comedies, but at one point the Reduced Shakespeare Company had more shows running in the West End than Andrew Lloyd Webber. Some of them were funnier too…
"IF YOU LIKE SHAKESPEARE, YOU'LL LOVE THIS SHOW. IF YOU HATE SHAKESPEARE YOU'LL LOVE THIS SHOW!"

The Today Show
Warning! This show is a high-speed roller-coaster type condensation of all of Shakespeare's plays, and is not recommended for people with heart ailments, bladder problems, inner-ear disorders, outer-ear disorders, Shakespearean scholars, degrees in Elizabethan history and/or people inclined to motion sickness. The RSC cannot be held responsible for expectant mothers!
"A madcap condensation that features non-stop laughs. Done at a whirlwind pace and with great delight, they are sure to win over even the most skeptical. And there is no doubt that William Shakespeare himself… would approve."

Daily Variety
"If you like Shakespeare, you'll like this show. If you hate Shakespeare, you'll love this show!"

The Today Show
"Stupendous, anchorless joy!"

The London Times
"Wildly funny. Masterful!"

Los Angeles Times
"The funniest show you are likely to see in your entire lifetime."

Montreal Gazette
"Shamelessly heretical!"

Time Out – London
"Gloriously, relaxingly funny."

Financial Times
"Shakespeare as it was back in the Bard's day: bawdy, irreverent, sublimely entertaining."

Miami Herald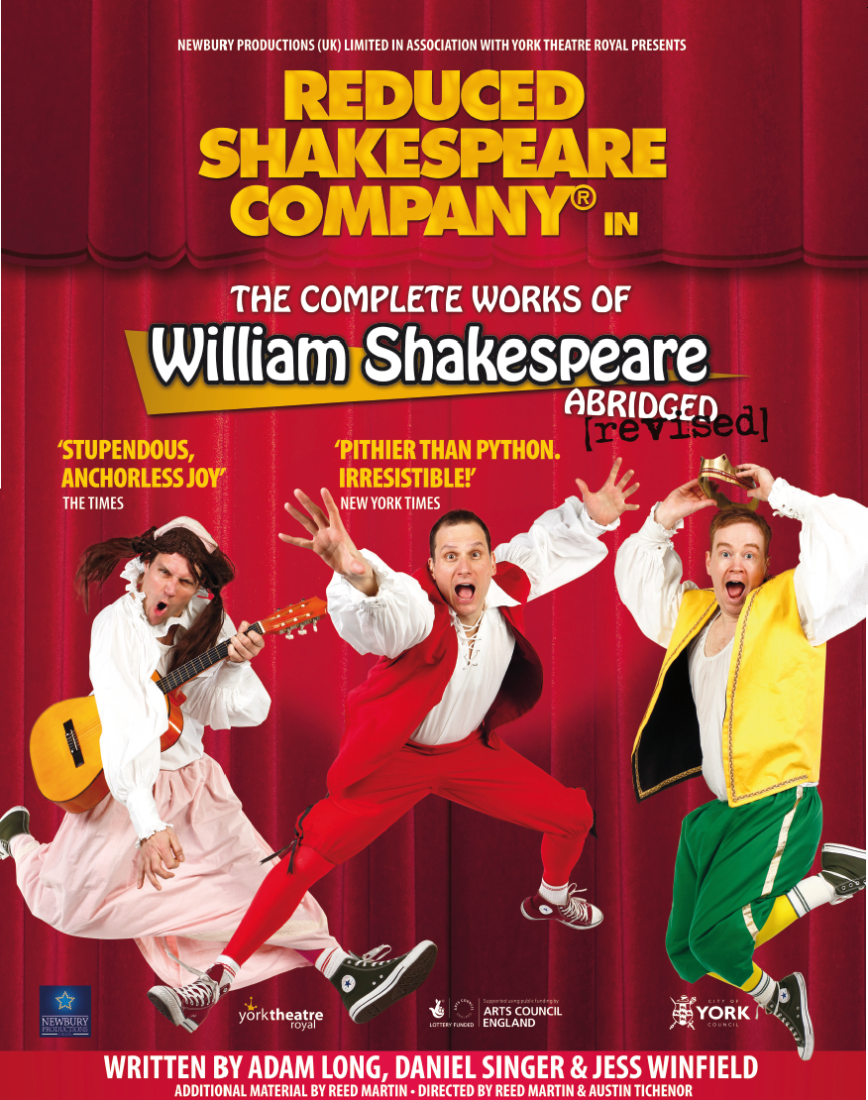 Upcoming Tour Dates
We look forward to announcing more performance dates soon. Stay safe, wear a mask!