By Reed Martin and Austin Tichenor
World Premiere
Folger Theatre at the Folger Shakespeare Library
April 21-May 8, 2016
"Something wickedly funny this way comes!"

New York Times
"A breathlessly irreverent and pun-filled romp!"

Washington Post
"An absolute resolute hoot of a bawdy comedy of errors!"

Broadway World
"Whatever you're doing, stop now. Run – do not walk; run – to…the glorious ray of sunshine that is William Shakespeare's Long Lost First Play (abridged)."

DC Metro
Discovered in a treasure-filled parking lot in Leicester, England (next to a pile of bones that didn't look that important), an ancient manuscript proves to be the long-lost first play written by none other than seventeen-year-old William Shakespeare from Stratford. We are totally not completely making this up.
William Shakespeare's Long Lost First Play (abridged) is the literary holy grail: an actual manuscript in Shakespeare's own hand showing all his most famous characters and familiar speeches in a brand-new story. But because it's one hundred hours long and contains multiple unwieldy storylines, the RSC decides, as a public service, to abridge it down to a brief and palatable ninety minutes and perform the world premiere of this lost masterpiece.
"The comedy's the thing! 100 minutes of fast-paced comic mayhem!"

Pittsburgh Post-Gazette
"Gloriously funny! Don't miss it!" 

Ken Ludwig, author of Lend Me a Tenor and the book How to Teach Your Children Shakespeare
You haven't seen the Complete Works until you've seen William Shakespeare's Long Lost First Play (abridged)!
"The lickety-split pacing cheerfully impudent tone…it's Shakespeare as you've never imagined!" 

Washington Post
"This isn't an antithesis to Shakespeare at all. These guys are real Bard Geeks, playing off and therefore honoring his theatrical eminence."

Pittsburgh Post-Gazette
In this strange-yet-familiar narrative, an ancient grudge pits Puck (from Midsummer) against Ariel (from The Tempest) and turns Shakespeare's canon upside-down, creating such strange bedfellows as Hamlet and that master motivator Lady Macbeth, Viola and Richard III, King Lear and the Weird Sisters, and (of course) Dromio and Juliet. Using questionable scholarship and street-performer smarts, playwrights Reed Martin and Austin Tichenor weave together most of the famous speeches and plot devices of Shakespeare's thirty-nine plays to create a fast, funny, and fictional fortieth, filled with witty wordplay and vaudevillian variety.
"Fortunately, you don't need to know the plays well to have fun, because the other half of "Long Lost Shakes" is its street theater energy and panache, cleverly playing off the audience." 

Pittsburgh Post-Gazette
"A glorious mishmash of Shakespeare's most famous lines and characters. Highly entertaining!"

Napa Valley Register
There's method in their madness as the "Bad Boys of Abridgment" reduce this 100 hour masterpiece into a ninety-minute minimum opus filled with ancient grudges, mistaken identities, unsettled ghosts, magical spells, questionable potions, powerful tempests, devastating shipwrecks, men dressed as women, and twins twins twins!
Watch Reed Martin & Austin Tichenor present their discovery to the experts at the Folger Shakespeare Library!
"Gateway Shakespeare that may lead to a lifelong addiction!"

Maryland Theatre Guide
"Hilarious!"  

South Bend Tribune
"Vaudeville for our times!"

DC Metro
"A non-stop crowd pleaser!"

Metro Weekly
"They keep us suspended midway between the ludicrous and the poignant."

Professor Richard Schoch, Queen's University, Belfast
"Very, very funny; the kind of tribute Shakespeare himself would have appreciated."

Broadway World
If you like Shakespeare you'll like the show. If you hate Shakespeare, you'll love William Shakespeare's Long Lost First Play (abridged)! 
"The Reduced Shakespeare Company has always been a hybrid of highbrow and low humor, and this show hits that sweet spot to appeal to all comers." 

DC Theatre Scene
"There's no need to brush up your Shakespeare to enjoy William Shakespeare's Long Lost First Play (abridged)!"

DC Metro
CONTENT ADVISORY: In the spirit of Shakespeare's comedies, RSC shows contain comic depictions of violence, mild innuendo, bawdy language, and the occasional rude word. All children (and parents) are different, so we've chosen to rate our shows PG-13: Pretty Good If You're Thirteen.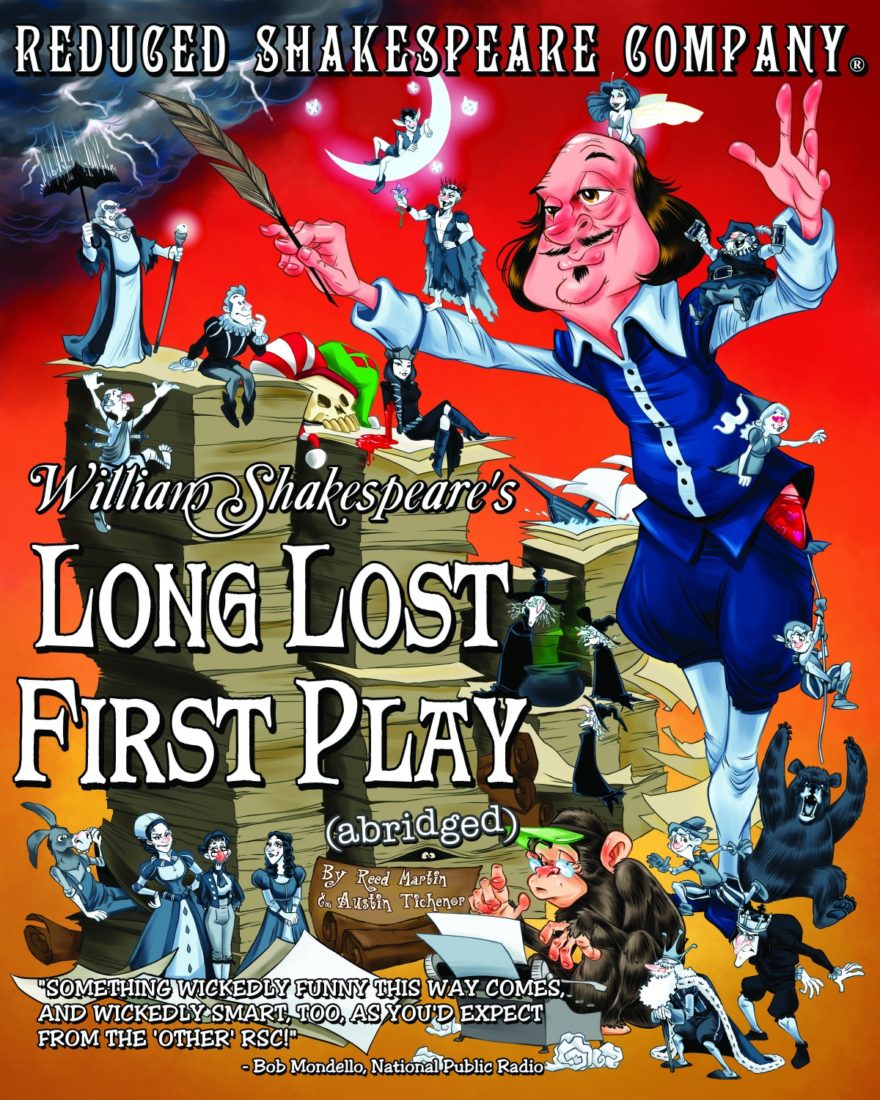 Upcoming Tour Dates
We look forward to announcing more performance dates soon. Stay safe, wear a mask!