By Reed Martin and Austin Tichenor
Welcome to the Annual Holiday Variety Show and Christmas Pageant at St. Everybody's Non-Denominational Universalist Church, where all faiths are welcome because we'll believe anything. But there's a problem: None of the acts scheduled to perform have arrived, so the three members of the Reduced Shakespeare Company are pressed into service to perform the entire Variety Show and Christmas Pageant by themselves.
"Critic's Choice! They tell me vaudeville died some time ago, but you wouldn't know it from watching the RSC. The knockabout, anything-for-a-laugh spirit of the ancient genre is alive and well in The Ultimate Christmas Show (abridged). These three agile and quick witted guys… there's no denying their ingenuity when it comes to grabbing comedy out of thin air."

Boston Globe
"Brought down the house with gales of laughter."

Theatre Mirror
"A pure delight from start to finish… Inspired madness!"

Broadway World
"Delightfully twisted holiday cheer. Christmas will never be the same once you share the holiday with the inspired lunacy of the masters of condensing the classics – the Reduced Shakespeare Company."

San Diego Theatre World
The fruitcakes of the Reduced Shakespeare Company take you on an irreverent yet heartwarming trip through the holidays in The Ultimate Christmas Show (abridged). It's festive funny physical family fun as these Three Wise Guys send-up and celebrate your favorite winter holiday traditions. You can even bring a wrapped Christmas gift of $5 value or less and participate in the audience gift exchange. Let the RSC rekindle the joy, inner-child and familial dysfunction inside us all!
"For those of you who can't take one more Christmas Carol or Miracle on 34th Street–style homage to the wonder of the season, the Reduced Shakespeare Company has your antidote, with an irreverent look at the holidays."

St. Louis Magazine
LEARN! How Santa saved Christmas!
SING! The Ultimate Reduced Christmas Carol!
CELEBRATE! Hanukkah, Kwanzaa and Saturnalia!
CRINGE! At the origin of the term "Nutcracker!"
MEMORIZE! New lyrics to "The 12 Days of Christmas" with iPads, not Lords A Leaping!
GASP! At the shocking history of our best-loved Christmas traditions!
"Side-splitting!"

Nashua Telegraph
"The Ultimate Christmas Show (abridged) will make your spirits bright, whether you joyfully embrace the upcoming season or get dragged into it kicking and screaming."

Broadway World
"Nothing less than hysterical"

Zingology
"Side-splitting fun" and "A night of belly-aching laughter"

New England Theatre Geek
"The Reduced Shakespeare Company brings its gloriously irreverent style to a Christmas pageant gone horribly, hilariously awry."

Dallas Morning News
"The Reduced Shakespeare Company's at it again. The Ultimate Christmas Show (abridged) (is a) zany, irreverent, side-sticker-inducing amalgam of vaudeville, improv and song. RSC took their bows to thunderous, standing applause."

Arts Ala Mode – Charlotte
"The bad boys of abridgment are in fine comedic form…This rollicking romp lovingly skewers every holiday tradition you can imagine."

The Accidental Thespian – Washington DC
"These brilliant clowns take us on an irreverent, but heartwarming trip through the holidays guaranteed to step on more than a few sacred cows and "mistel-toes."

San Diego Magazine
"Like no holiday show I have seen before… this trio of actors delivers a tour de force performance that left the room in stitches and exiting the theater still buzzing… an absolute delight!"

Edge San Diego
"Stunningly hilarious… a must see for your entire family!"

KDHX Radio, St. Louis
"Triumphant!"

Creative Loafing – Charlotte NC
"The Bad Boys of Abridgment bring the house down…had the audience doubled-up with laughter. A roller-coaster of fun. It is a long time since I have seen an audience laugh as loud and as long as this. The Ultimate Christmas Show (abridged) is a delight that will keep you smiling for days and a great way to get you in the true holiday spirit."

LGBT Weekly, San Diego
"A complete delight!"

Two On The Aisle – HEC TV, St. Louis
CONTENT ADVISORY: In the spirit of Shakespeare's comedies, RSC shows contain comic depictions of violence, mild innuendo, bawdy language, and the occasional rude word. All children (and parents) are different, so we've chosen to rate our shows PG-13: Pretty Good If You're Thirteen.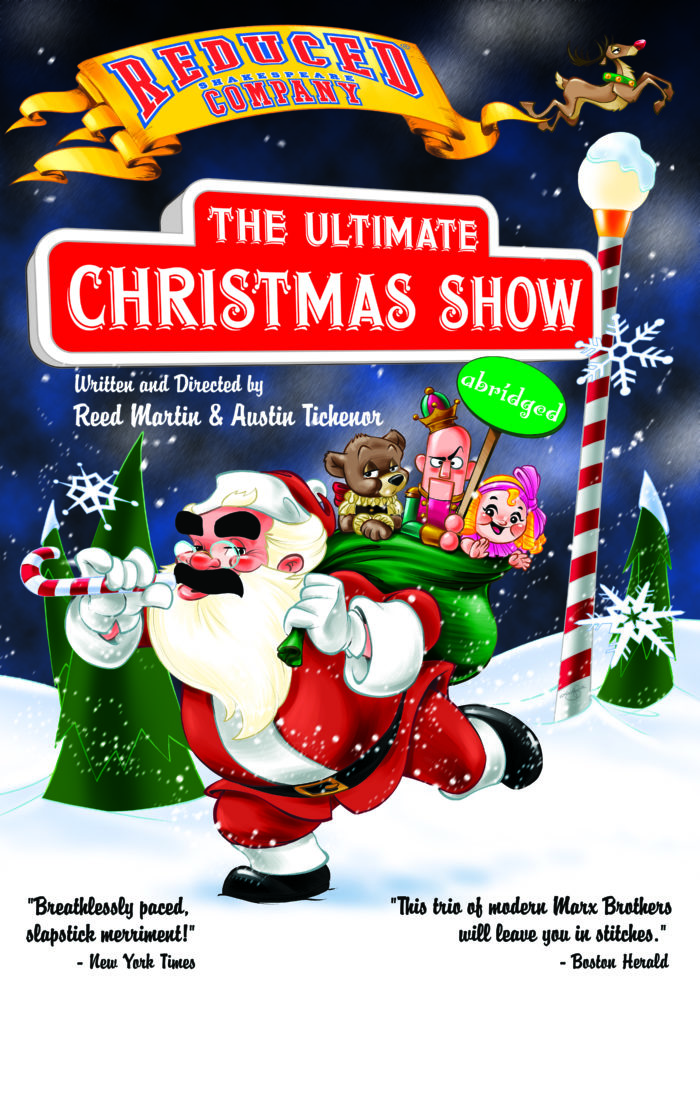 Upcoming Tour Dates
USA