Citius. Brevius. Ineptius.
Written and Directed by Reed Martin & Austin Tichenor
"Top 10 Things To Do In London During the 2012 Olympics!"

Independent
"Owes as much to the insanity of Monty Python as to the inanity of actual sports programs."  

Boston Globe
"I loved it! It is smart, funny – even unexpectedly insightful and moving."

Scott Simon, National Public Radio
"Is there anything these men can't reduce? It's a deceptively exhaustive tour, its intellectual rigor leavened by silliness of the first degree." 

Variety
"A comical analysis of sports' childish side. (This) parody of ESPN's "SportsCenter"… is pitched directly and proudly at the juvenile in sports fans of all ages." 

New York Times
"Faster than a speeding punchline, as silly as Monty Python, and with satiric spice flavoring its comedic candy."  

Pittsburgh City Paper
In this merciless but affectionate satire, The Reduced Shakespeare company sets it comic sites on the lunacy of sports. The result is a tour-de-farce of vaudevillian physical comedy that will delight every non-sports fan in the family.
The Complete World of Sports (abridged) is an audience-interactive, family-friendly show for all ages, "blending slapstick, sight gags, hernia-inducing puns, and genuine verbal wit" (Boston Globe) and has been featured in both ESPN and American Theatre magazines!
As one critic wrote, "I hate sports, but I couldn't stop laughing from the moment the RSC took the stage!"
The bad boys of abridgement are back! So Get Ready! Get Set! LET THE GAMES BEGIN!

"Delicious anarchy." 

Washington Examiner
"The pacing and timing are crackerjack. It's hard not to grin all night, so give 'em a medal. Who's gonna beat their time in a comic sprint?"

Washington Post
"A fast-moving and deeply funny farrago, a neo-vaudevillian sendup that manages to be both merciless and affectionate."  

Boston Globe
"The RSC tear into their heady task with childlike glee. I was delighted by the fusion of highbrow and lowbrow humor informed by an obvious affection for the subject matter. I am relieved to see that the RSC's signature style and quality have endured and flourished in this new production."  

DC Theatre Scene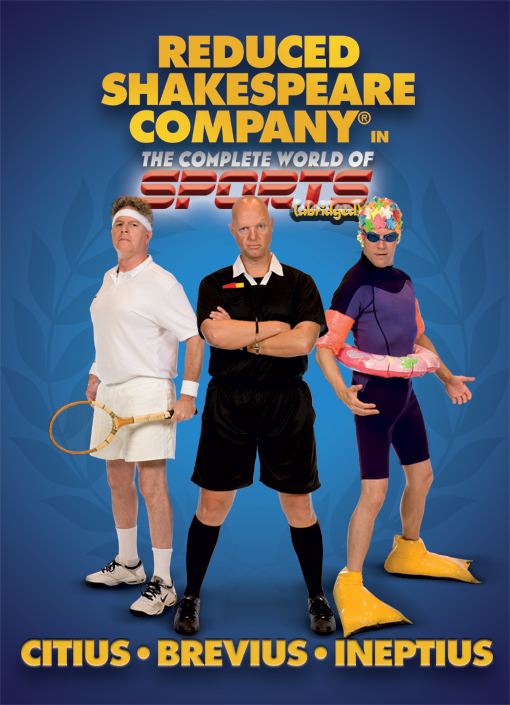 Upcoming Tour Dates
We look forward to announcing more performance dates soon. Stay safe, wear a mask!