By Reed Martin and Austin Tichenor
Original Music by Nick Graham
Additional Material by Dee Ryan
1000 Years in 100 Minutes!
From Beowulf to Baywatch! They shook up Shakespeare. They annihilated American History. They abridged the Bible. And now, the Reduced Shakespeare Company massacres the Millennium with a brand new reduction – Western Civilization: The Complete Musical (abridged) – a musical/comedy version of the last 1000 years!
It's Apocalypse Postponed as the Bad Boys of Abridgment dissect 1000 years of world history in order to prevent the dawn of Judgment Day. In their first musical, the RSC turns their twisted sensibilities to the most famous and infamous characters, discoveries and events of the millennium. The last 1000 years will never be the same!
One thousand years in one hundred minutes! The end of the Millennium only comes around every six or seven centuries. You're gonna laugh like it's 1499 and the music will knock you out!
"They're funnier than ever!"

The Washington Post
"Deft and wacky."

"Deft and wacky."
"Nearly caused mass incontinence."

Anchorage Daily News
"This trio of modern Marx Brothers will leave you in stitches."

Boston Herald
"They're funnier than ever!"

The Washington Post
"The Reduced Shakespeare Company attains satirical heights for which most comedians wouldn't think to reach."

Bob Mondello, National Public Radio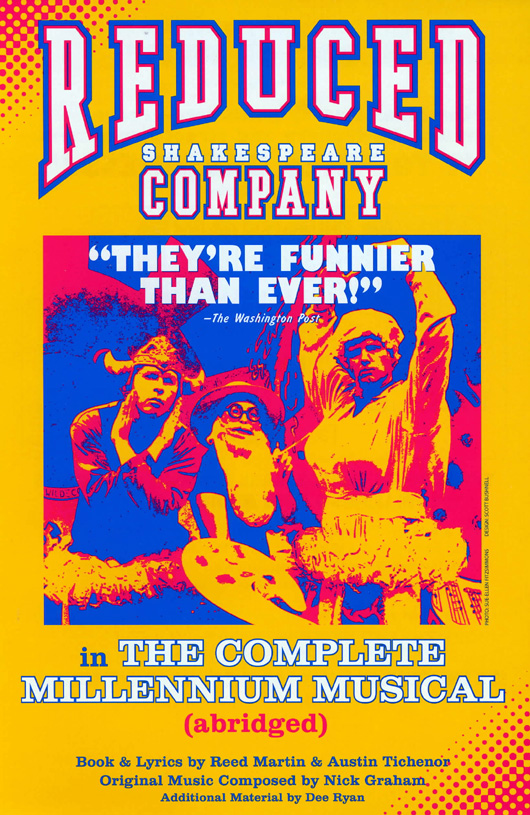 BUY THE ORIGINAL CAST RECORDING FROM AMAZON OR APPLE MUSIC!