By Reed Martin and Austin Tichenor
Nothing is rotten in the state of Denmark as young Hamlet leaps into action to save the nunnery with Ophelia and Yorick the jester! What could possibly go wrong?
This hysterical prequel answers all the important questions, like:
Why can't Ophelia take swim lessons?
Where the hell is Mrs. Polonius?
And why does Hamlet's mother spend so much time at his uncle's house?
What will young Hamlet grow up To Be? That is the question!
Hamlet's Big Adventure! (a prequel) is the Comedy of the Prince of Denmark!
It's a fast, funny, and physical extravaganza filled with scary ghosts, wee Scots, singing nuns, and a mysterious vassal in the castle! Martin and Tichenor (authors of William Shakespeare's Long Lost First Play (abridged) and Pop-Up Shakespeare) take a deep dive into the greatest play ever written.
What if Tom Stoppard wrote Muppet Babies? Come see Hamlet's Big Adventure! (a prequel) and find out!
"Hilarious! A love letter to one of Shakespeare's most challenging and complicated plays."

Napa Valley Register
"Attains satirical heights for which most comedians wouldn't think to reach."

Bob Mondello, National Public Radio
"They are smart, cheeky clowns!" 

The New York Times
"One of the funniest troupes in American theatre today!"

St. Louis Post-Dispatch
"Hooray for the Reduced Shakespeare Company!"

BBC
"Part satire…part knee-slapping, guffaw-inducing, completely silly romp!"

Napa Valley Register
CONTENT ADVISORY: In the spirit of Shakespeare's comedies, RSC shows contain comic depictions of violence, mild innuendo, bawdy language, and the occasional rude word. All children (and parents) are different, so we've chosen to rate our shows PG-13: Pretty Good If You're Thirteen.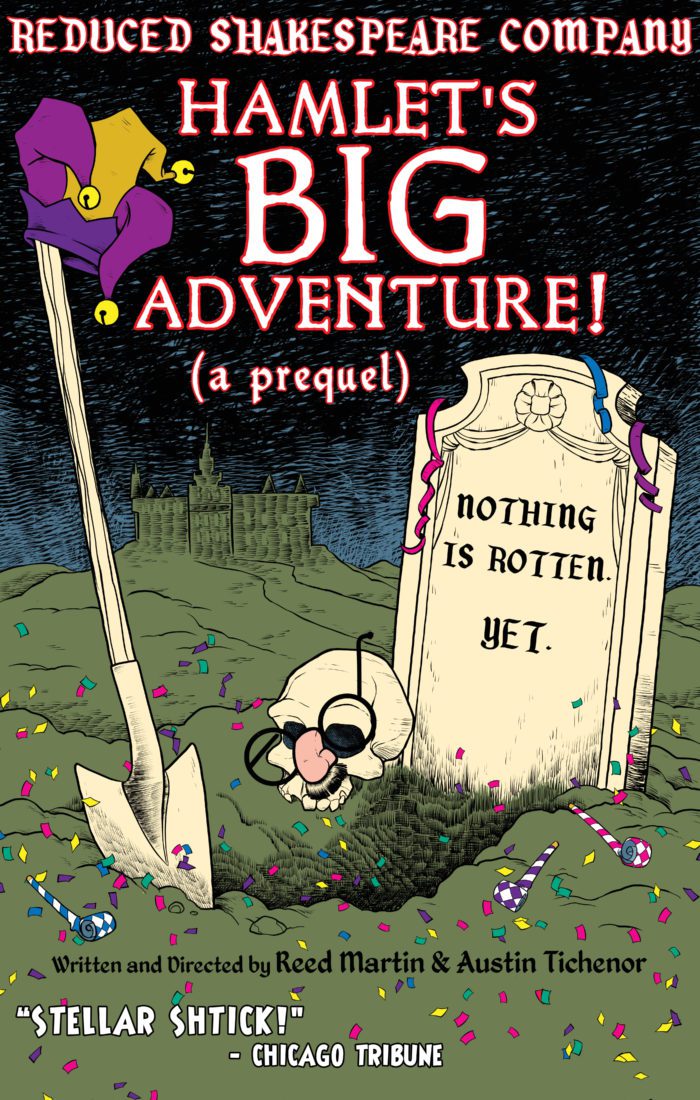 Upcoming Tour Dates
We look forward to announcing more performance dates soon. Stay safe, wear a mask!