By Reed Martin and Austin Tichenor
Additional Material by Matthew Croke & Michael Faulkner
Little Dickens. Short Longfellow. Reduced Proust…
All the Great Books.
 

Less is More.

The Literary Canon explodes as the bad boys of abridgement unleash a brand-new comic outrage on an unsuspecting public. America's best loved comedy troupe takes you on a ninety-eight minute roller-coaster ride through its compact compendium of the world's great books in All The Great Books (abridged).

Confused by Confucius? Thoroughly thrown by Thoreau? Wish Swift was swifter? Tennyson tinier? Then buckle up and hop aboard as the three cultural guerrillas of the Reduced Shakespeare Company zip through everything you didn't get around to reading in school. (Read the class syllabus here.)
You've seen their recent PBS special. You've heard them on National Public Radio. They are officially London's longest-running comedy troupe, and have broken box-office records at the Kennedy Center, Seattle Repertory Theatre, and the Pittsburgh Public Theatre. What are you waiting for? Tempus fugit! Reductio ad absurdum.

"English class meets Monty Python"

The Washington Post
"Raucously funny! Inspired, crazed ridiculousness!"

Buffalo News
"The bouncy threesome deliver a physically boisterous brand of comedy. Laugh out loud hilarious."

Washington City Paper
"Brilliant, surreal comedy. Street buskers for educated grown-ups. Who knew Homer was so funny? Not Simpson – the other one."

Christopher Rawson – Pittsburgh Post-Gazette
"Very, very funny!"

NBC
"Literature's greatest hits condensed into a ninety-minute roller-coaster ride of hilarity."

Atlanta Journal-Constitution
"Verbally dexterous and physically agile. The show darts from satire to silliness to sophisticated irreverence."

Boston Globe
"Witty and wacky!"

London Sunday Telegraph
"A romp from Homer to Homer Simpson."

Milwaukee Journal Sentinel
"An inspired bit of crazed ridiculousness."

Buffalo News
"A delightful theatrical soufflé."

Cincinnati Riverfront Times
CONTENT ADVISORY: In the spirit of Shakespeare's comedies, RSC shows contain comic depictions of violence, mild innuendo, bawdy language, and the occasional rude word. All children (and parents) are different, so we've chosen to rate our shows PG-13: Pretty Good If You're Thirteen.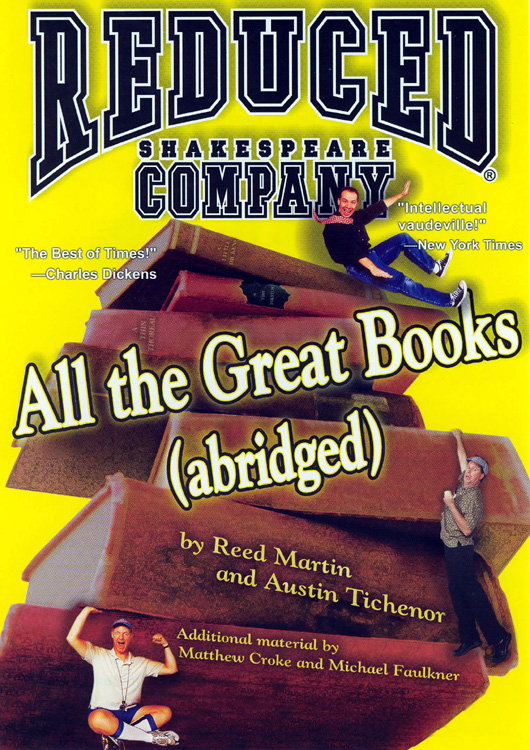 Upcoming Tour Dates
We look forward to announcing more performance dates soon. Stay safe, wear a mask!