From Fig Leaves to Final Judgment…
The Good Book Just Got Better!
It's apocalypse now as the three cultural guerrillas of The Reduced Shakespeare Company set their reductive sites on the good book with The Bible (abridged). Can bolts of lightning be far behind?
Yes, it's an affectionate, irreverent roller-coaster ride from fig leaves to Final Judgment as the boys tackle the great theological questions: Did Adam and Eve have navels? Did Moses really look like Charlton Heston? And why isn't the word "phonetic" spelled the way it sounds?
Whether you are Catholic or Atheist, Muslim or Jew, Protestant or Purple People Eater, you will be tickled by the RSC's romp through old time religion. Remember… Someone is watching.

"It's wacky! It's zany! And a little profaney."

Sister MaryAnne Walsh, Arlington Catholic Herald
"There is no doubt about it, these three lads are in a league of their own when it comes to vivid originality both in the show itself and its performance. They have sublime moments of surreal theatricality. Sly minds are at work throughout."

Jack Tinker – The London Daily Mail
"The audience dissolved hysterically into the aisles. The troupe's obvious comic forbears include the Mark Brothers (wordplay and irreverence), the Flying Karamazov Brothers (madcap performance comedy) and vaudeville as reinvented by "Laugh-In" (pace and schtick)."

Ron Weiskind – Pittsburgh Post-Gazette
"This is a slick, fast, very funny show… skilled performers with immaculate, sassy American timing."

London Sunday Times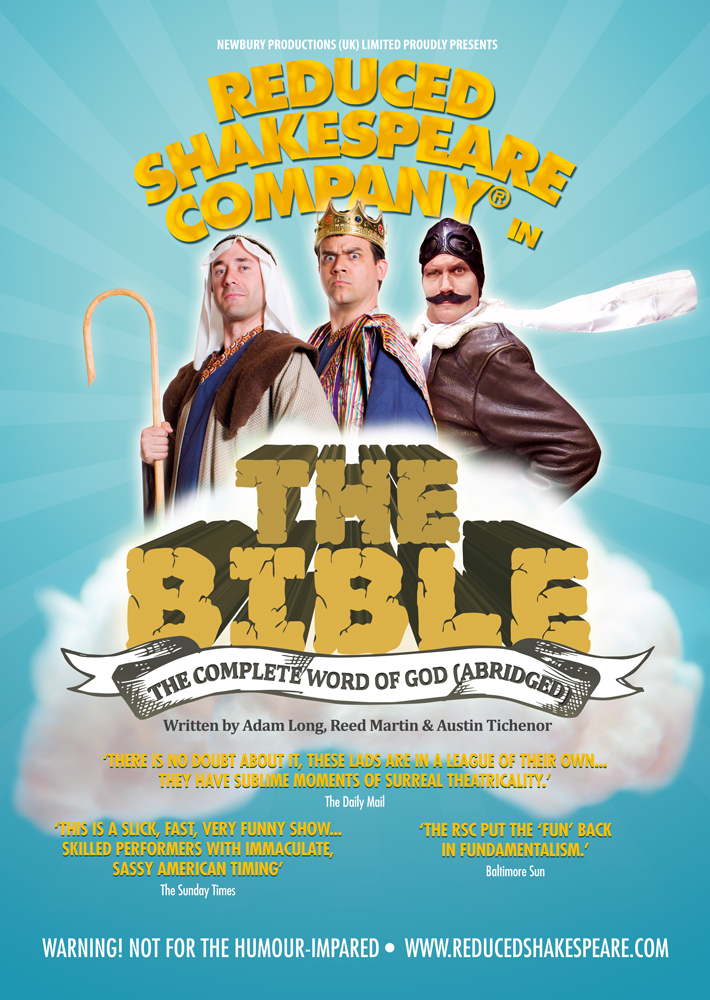 Upcoming Tour Dates
We look forward to announcing more performance dates soon. Stay safe, wear a mask!