By Adam Long, Reed Martin, and
Austin Tichenor
600 Years of History in 6000 Seconds…
History Will Never Be The Same!
From Washington to Watergate, yea verily from the Bering Straits to Baghdad, from New World to New World Order – The Complete History of America (abridged) is a ninety-minute rollercoaster ride through the glorious quagmire that is American History, reminding us that it's not the length of your history that matters – it's what you've done with it!
The three cultural guerillas of the Reduced Shakespeare Company tackle such controversial questions as: Who really discovered America? Shouldn't there be a Bill of Wrongs as well as a Bill of Rights? How many Democrats does it take to screw in a lightbulb? History is normally written by the winners… now it's the RSC's turn.
"An apt description of what the company does is intellectual vaudeville. They are smart, cheeky clowns who present themselves as a collective repository for most of American mass culture."

Stephen Holden – New York Times
"The Reduced Shakespeare Company cheerfully run riot over 500 years of our country's history… they mine dozens of landmark events and trends for comic gold. The trio's nimble tongues, rubber-limbed pratfalls and obvious street-performer smarts make this a merry, nose-tweaking outing."

Washington Post
"History has never been this much fun. Or as delightfully mutilated."

Bill Brownstein – Montreal Gazette
"What the "Daily Show" might be like if it were hosted by the Marx Brothers."

Boston Herald
CONTENT ADVISORY: In the spirit of Shakespeare's comedies, RSC shows contain comic depictions of violence, mild innuendo, bawdy language, and the occasional rude word. All children (and parents) are different, so we've chosen to rate our shows PG-13: Pretty Good If You're Thirteen.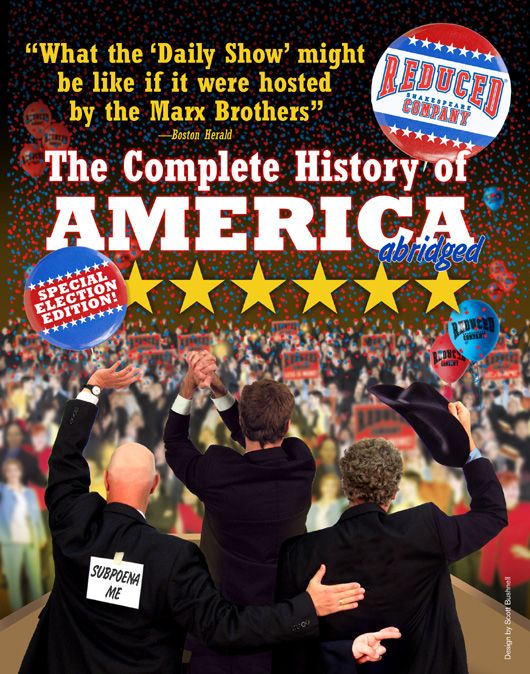 Upcoming Tour Dates
We look forward to announcing more performance dates soon. Stay safe, wear a mask!